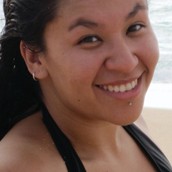 Erin Bad Hand, Lakota/ Eastern Cherokee.
Poet Erin Bad Hand, Lakota and Eastern Cherokee, deals with issues of multi-cultural identity in her poetry. She received her MFA in Creative Writing from the School of the Art Institute of Chicago in May of 2006. Since then, she has worked with and for not-for-profit organizations in Taos, New Mexico and has taught introductory creative writing courses at UNM-Taos. Erin's published poems include "Could You Be The Perfect Wife?" Chokecherries, A Society of the Muse of the Southwest Anthology, 1997, "Mother Land," The Sister Fund Newsletter, Sister Fund Foundation, 2001, and others, as well as a short essay, Much More Than Teepees or Totem Poles, Fnews Magazine, SAIC, 2005 and a chapbook published by the Hulbert Center Press of Colorado College titled And Then Everyone Can Rest…., 2002. She is also a Northern Traditional Dancer, a singer with Heartbeat Drum, and a self-proclaimed foodie. She is currently living in Napa, California. Enchanted Land Fellow.*
http://aroomofherownfoundation.org/erin-bad-hand/
Fields spill past us, one by one, a patchwork blur of grays and browns while
perched high on a heap of highway dirt, a large Golden
angles her head sidelong, bearing through the girl in the front seat
with the trenchant squint of an angry huntress We fly
past scattered crosses groaning under weight of plastic flowers
venerating lives not spoken enough of
these descansos left for travelers meant to play morbid games
who and how and when
we reach the grousing pines of that forgotten valley,
Wakpamni Lake sings out its suffering
hungry for the lives of small ones that once sought refuge in its waters
You tell me of the path you used to take
where you and your cousins rode
that eternal trail of boyhood in South Dakota, 1956 maybe
And the girl in the front seat smiles for the next photograph
asks more questions, squints her eyes for a closer look at
what was never there before, but continues to grow, out from
the late April mud still covered with the desperate ice of last winter
How do we retrace the steps of a lifetime that occurred so long ago?
The house on the hill is where I used to live, you say
But she looks and there is no house
Ah, that is where it used to be
Driving all this time, silence broken by small, vital stories, up the hill and out
through the valley's gaping mouth (it has let us go without a fight)
into the vast numbness of Nebraska
past the little farm where you say
with pointing lips– That is where my father used to work,
on that little farm on the hill, picking potatoes
by Erin Bad Hand*
*http://www.drunkenboat.com/db15/erin-bad-hand
IX
Kin 234: White Cosmic Wizard
I endure in order to enchant
Transcending receptivity
I seal the output of timelessness
With the cosmic tone of presence
I am guided by the power of endlessness.
The purpose of the AA Midway Station at this particular time is to refocus and reconnect an information vortex here on this test tube planet, which is a micro-galactic brain.*
*Star Traveler's 13 Moon Almanac of Synchronicity, Galactic Research Institute, Law of Time Press, Ashland, Oregon, 2016-2017.
The Sacred Tzolk'in
Muladhara Chakra (Seli Plasma)