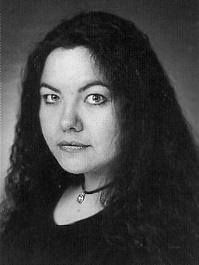 Tiffany Midge, Standing Rock (Hunkpapa) Sioux.
Tiffany Midge is a Native American poet (enrolled member, Standing Rock Sioux belong to the Hunkpapa Lakota). Her poetry is noted for its depiction of a self divided by differing identities, and for a strong streak of humor. In 1997, Sherman Alexie named her as among up and coming writers, but claimed that she needed to move away from the influence of his style.
She has also written short stories and erotica, including contributions to the collection Without Reservation, edited by Kateri Akiwenzie-Damm.
Her book Outlaws, Renegades and Saints: Diary of a Mixed-Up Halfbreed was awarded the Diane Decorah Poetry Award by the Native Writers Circle of the Americas in 1994.
"Her poetry has been commissioned into a choral ensemble by composer Seppo Pohjola of Finland and adapted into the dramatic work, "Cedars," produced by Red Eagle Soaring Native American Theater."
Among other activities, Midge now edits the poetry section of the arts magazine The Raven Chronicles.*
*www.wikipedia.com
Night Caller
The mollusk inching toward my door,
its body a broad wet muscle of rain and ascent
reminds me how all things are possible,
just as the rain foretells certainty
in a language of unquestionable voice.
I hear the night break, the moon
tossing back her hair. I hear the hum
of contentment shuddering in the grass.
The mollusk seeks direction, drinks
in the door's pool of light, charts
a course for warmth, its horns
pivots of radar, exclamation points,
exquisite attachments puzzling out the smell
of water and storms. In the last twenty-four hours
there've been sloughs of visitors to this porch:
half-drowned spiders, stink bugs, furious horse-flies.
We've discarded them tenderly, others
mercifully tended and killed—unnamed shadows,
unmarked graves, wings and songs put to rest,
lunacies of want laid down. You turn in sleep,
then wake and tell me about tropical weddings
and masked brides, guests who only speak
the warbled tongue of sparrows, and fall back again—
dreaming your night stories, hosting the night visits,
each with its own small creature,
each with its own grand light.*
by Tiffany Midge
*http://www.drunkenboat.com/db15/tiffany-midge
Kin 243: Blue Solar Night
I pulse in order to dream
Realizing intuition
I seal the input of abundance
With the solar tone of intention
I am guided by the power of self-generation.
Cosmic Science is an initiation of the planetary human , specifically coordinated to synchronize with the shift from human to superhuman.*
*
Star Traveler's 13 Moon Almanac of Synchronicity, Galactic Research Institute, Law of Time Press, Ashland, Oregon, 2016-2017.
The Sacred Tzolk'in
Svadhistana Chakra (Kali Plasma)