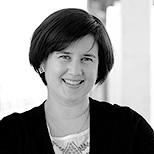 Laura Da, Eastern Shawnee,
Laura Da' was born in the Pacific Northwest region. She is an enrolled member of the Eastern Shawnee of Oklahoma and of Seneca and Miami heritage. All these mixes and dichotomies lend depth to her compelling poetry.
Da' studied creative writing at the Institute of American Indian Arts, the University of Washington, and Seattle University. As a poet and public school teacher, she balanced teaching with pursuing her artistic passion in her spare time. After a decade of this balancing act, her first chapbook, The Tecumseh Motel, was published in Effigies II in 2014, and her first book length manuscript, Tributaries, was published in 2015.
Da's work is a type of articulated re-mapping and radical adaption to blended forms and voice. Her poetic quip is pervasive, formulating new descriptions as an opening up of new ways to verse. Da entices the reader with the confident blend of writing that she forms. She enjoys writing from history, and finding different perspectives, whether from text or through oral knowledge. One can journey in her poetry through various rifts of time and place, discovering the 'radical adaption' in her writing that fascinates readers.
The 2015 National Artist Fellowship monetary award provides additional support for Da' to complete and market a book length manuscript of poetry, allow her to share her work at conferences, and allow her to present her work in her own tribal community.*
http://www.nativeartsandcultures.org/laura-da
Measuring the Distance to Oklahoma
Shell shaking in the state of the coin toss and sorrowful walk.
Weaving through the powwow grounds
grass stomped low and buzzing with flies
your son walks two quick steps ahead of me
to point out a tiny bow and arrow at a vendor's booth.
Rats scuttle in the grain silo.
The gentle clamor of the casino washes through the parking lot.
A table is piled with half a dozen corn cakes,
each one embossed with the maker's thumbprint.
Your grandfather recounts
catching water moccasins as a boy
and spitting wads of tobacco down their throats
just to watch them squirm.
You sink onto a dusty quilt
gently pull the empty coke can from your boy's sleeping fist
shake your head impatiently when your daughter whines for you to
untie an intricately beaded belt from her regalia.
Child's arrow, capped with a pencil eraser twirling in your fingers.
Ottawa county moon as seen from a distance:
Pale vodka swirling in an open mouth.
Driving home on the frontage road,
green and riveted as a turtle's back.
Highway sketched into place by the broken black lines
of oil rigs at midnight.*
by Laura Da
*http://www.drunkenboat.com/db15/laura-da
ETZNAB
Kin 238: White Self-Existing Mirror
I define in order to reflect
Measuring order
I seal the matrix of endlessness
With the self-existing tone of form
I am guided by the power of timelessness.
Facing inward, the direction of the multidimensional universe, we can gain direct experience of frequencies and beams of telepathic transmissions.*
*
Star Traveler's 13 Moon Almanac of Synchronicity, Galactic Research Institute, Law of Time Press, Ashland, Oregon, 2016-2017.
The Sacred Tzolk'in
Manipura Chakra (Limi Plasma)