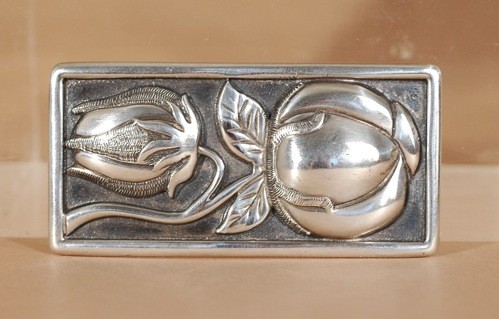 Kenneth Begay, Cotton Boll Buckle.
"I see the designs on potsherds and on Navajo rugs. I dream about designs at night and then write them down and use them."
—Kenneth Begay, Navajo artist
Kenneth Begay (1913–1977) was called the "father of modern Navajo jewelry" for his clean, bold, modern designs. But he also exemplifies the long history and continuity of Navajo jewelry-making: Begay studied under Fred Peshlakai, who had been taught by his father, Slender Maker of Silver, who was trained by Atsidi Chon, one of the earliest Navajo silversmiths. Begay in turn taught many others including his son, Harvey, now a renowned jeweler.
Although deeply rooted in traditional jewelry-making techniques, Begay's work was so innovative that it was rejected from a 1949 exhibition of Native art as too radical. Although he used and taught the old techniques, Begay explained near the end of his life, "I like to create something new and still use the old Navajo design style."
Kenneth Begay created clean, elegant designs based on streamlined shapes that were repeated to form balanced and harmonious patterns, a style that has been compared to Navajo weaving.
http://www.amnh.org/exhibitions/totems-to-turquoise/master-artists/kenneth-begay/
Kin 200: Yellow Overtone Sun
I empower in order to enlighten
Commanding life
I seal the matrix of universal fire
With the overtone tone of radiance
I am guided by the power of elegance.
Lifting our mind above the whole Earth, we can view the whole template of evolutionary unfolding.*
*
Star Traveler's 13 Moon Almanac of Synchronicity, Galactic Research Institute, Law of Time Press, Ashland, Oregon, 2015-2016.
The Sacred Tzolk'in
Svadhistana Chakra (Kali Plasma)