.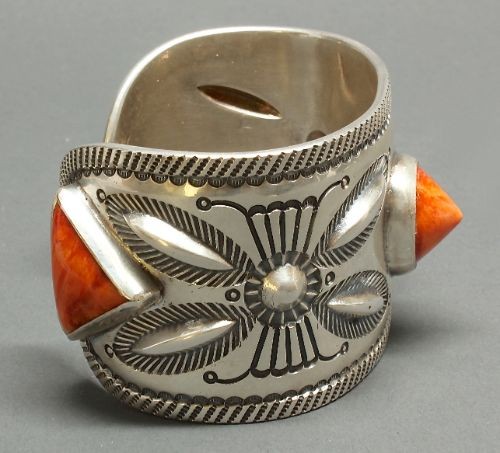 McKee Platero Bracelet with Pointed Spoldylus.
McKee Platero (b.1957) is a Navajo Silversmith and is considered to be one of the most technically proficient and imaginative silversmiths working today. He is among the growing group of artists melding the traditions of the past with the possibilities of the contemporary. His style ranges from the very traditional to the contemporary to classic revival. McKee is also able to work with all different types of materials such as ingot, silver, gold, red brass, iron and set stones. He says "From the very onset, I was very serious about making jewelry, and I've always hammered and drawn out silver. You have to respect the stone turquoise is perfection."
www.shiprocksantafe.com
Kin 195: Blue Cosmic Eagle
I endure in order to create
Transcending mind
I seal the output of vision
With the cosmic tone of presence
I am guided by the power of self-generation.
To counteract the blind destructive nature of war and aggression, the cosmic spiritual force evolves itself through souls who seek transcendence from conflict altogether.*
*
Star Traveler's 13 Moon Almanac of Synchronicity, Galactic Research Institute, Law of Time Press, Ashland, Oregon, 2015--2016.
www.mayanmajix.com
The Sacred Tzolk'in
Manipura Chakra (Limi Plasma)