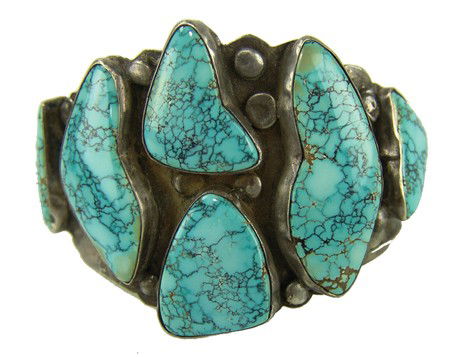 Turquoise Bracelet, Mark Chee, Navajo.
Mark Chee, Navajo, b. early 1900's, Lukachkai, AZ.
After attending the Fort Defiance boarding school from age 10 through the 11th grade, Mark moved to Santa Fe and began his career by polishing stones for $5.00 a week. He became a well known and important silversmith working as a bench smith for Frank Patania as well as Al Packard. Mark worked from the 1930's to 1960's, and his jewelry is easily recognizable by its heavy silver, stamp work, set stones and the stamp of his last name Chee in a bird. In addition to wearable jewelry, Mark also made silver flatware sets.
By marrying a woman from San Juan (Ohkay Owingeh) Pueblo, Mark's influence is carried on today by such artists as Mike Bird Romero.
www.shiprocksantafe.com
Kin 203: Blue Galactic Night
I harmonize in order to dream
I seal the input of abundance
With the galactic tone of integrity
I am guided by the power of accomplishment
I am a galactic activation portal
The Sirian persona is a telepathic channel open to the frequency lines of all beings.*
*Star Traveler's 13 Moon Almanac of Synchronicity, Galactic Research Institute, Law of Time Press, Ashland, Oregon, 2015-2016.
The Sacred Tzolk'in
Anahata Chakra (Silio Plasma)