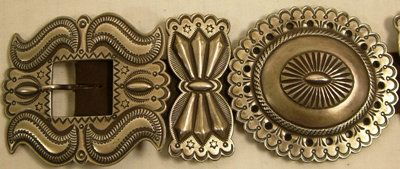 Perry Shorty brown leather belt with 9 silver conchas,
Perry Shorty uses traditional techniques to create jewelry in a style reminiscent of the 1940's. His work might be defined as a revival of the elegant classic jewelry of that period. Shorty makes most of the stamps used to imprint designs into the silver. "I try to keep things simple," he says. "The old smiths didn't have a lot of tools and materials to work with, and I like doing it their way."
Twisted-wire designs and delicate scrolls, all made from silver wire, are meticulously hand-fashioned as is all of his work. His ideas come from studying early jewelry in museums and galleries, and at fairs where the Navajo people wear their old jewelry. Yet each piece is unique. "I often design a piece as I go along," he explains, "not knowing exactly how the finished piece will look until it nears completion. On the other hand, I sometimes know just what I want from the start. I try to work with the stones — they dictate the style."
This jewelry represents the use of many techniques: fabrication (squash blossoms and beads of necklace, bezels for stones and general assembly of pieces), tufa casting (naja and squash blossom stems of necklace); stamping (concha belt and pin, lower right), repousse (raised portions of concha belt), twisted wire designs (pin, bracelet, and border of large stone in naja), drawn wire designs (bracelets and pin), filing (indented rings around squash blossoms), and appliqué of small silver balls (bracelets, pin, and squash blossom petals).
waddelltradingco.com
Kin 196: Yellow Magnetic Warrior
I unify in order to question
I seal the output of intelligence
With the magnetic tone of purpose
I am guided by my own power doubled.
Extraterrestrial intelligence is not subject to the conditioning of the thought programs that exist on the surface of this planet.*
*
Star Traveler's 13 Moon Almanac of Synchronicity, Galactic Research Institute, Law of Time Press, Ashland, Oregon, 2015-2016.
The Sacred Tzolk'in
Anahata Chakra (Silio Plasma)