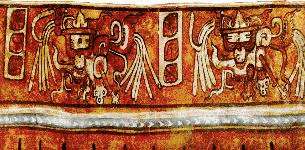 The elements on the head of this dragon are supposedly instruments of self-sacrifice.
They are found at the base of the supernatural tree displayed as a "cross" on Palenque temples.
Red Cosmic Dragon
A procurer of the transcendent Word
Who gathers beauty in the World
A healing balm and Blessing
Fill my time with Treasure
And Forgiveness my nourishment
May the Skywalkers explore
The vastness of my Heart –
And the Mansions of my Soul.
Kin 221: Red Cosmic Dragon
I endure in order to nurture
Transcending being
I seal the input of birth
With the cosmic tone of presence
I am guided by the power of life force.
By adopting a crystal for personal use, the crystalline frequencies can be absorbed by our psycho-sensory system, while our brain waves and bio-psychic radiation are received and stored by the crystal.*
*
Star Traveler's 13 Moon Almanac of Synchronicity, Galactic Research Institute, Law of Time Press, Ashland, Oregon, 2015-2016.
The Sacred Tzolk'in
Ajna Chakra (Gamma Plasma)