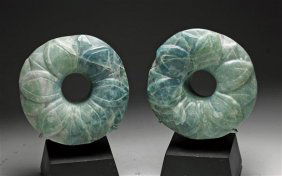 Pre-Columbian, Mayan Territories, Ca 500 to 850 CE. Exceptionally large and fine translucent blue-green jade ear spools, each carved with six petals in low relief and deep ear socket, these with drilled holes to accept a pin to keep in position.
www.liveauctioneers.com
Crafting a Body of Light.
CHUEN
Kin 231: Blue Planetary Monkey
I perfect in order to play
Producing illusion
I seal the process of magic
With the planetary tone of manifestation
I am guided by the power of self-generation.
Everything is part of one inherently artistic cosmic plan.*
*
Star Traveler's 13 Moon Almanac of Synchronicity, Galactic Research Institute, Law of Time Press, Ashland, Oregon,
The Sacred Tzolk'in
Manipura Chakra (Limi Plasma)