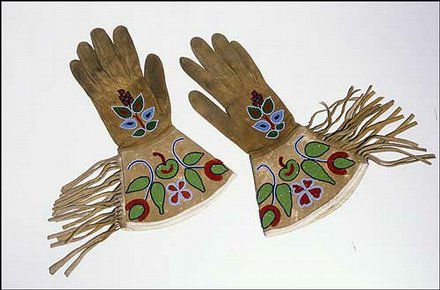 Gloves made of buckskin, fiber and glass beads by a member of the Potawatomi tribe.
The Pottawatomi /ˌpɑːtəˈwɑːtəmiː/ also spelled Pottawatomie and Potawatomi (among many variations), are a Native American people of the Great Plains, upper Mississippi River and Western Great Lakes region. They traditionally speak the Potawatomi language, a member of the Algonquian family. The Potawatomi called themselves Neshnabé, a cognate of the word Anishinaabe. The Potawatomi were part of a long-term alliance, called the Council of Three Fires, with the Ojibwe, Odawa (Ottawa). In the Council of Three Fires, the Potawatomi were considered the "youngest brother" and were referred to in this context as Bodéwadmi, a name that means "keepers of the fire" and refers to the council fire of three peoples.
In the 19th century, they were pushed to the west by European/American encroachment in the late 18th century and removed from their lands in the Midwest to reservations in Oklahoma. Under Indian Removal, they eventually ceded many of their lands, and most of the Potawatomi relocated to Nebraska, Kansas, and Indian Territory, now in Oklahoma.
The Potawatomi first lived in lower Michigan, then moved to northern Wisconsin and eventually settled into northern Indiana and central Illinois. In the early 19th century, major portions of Potawatomi lands were seized by the U.S. government. Following the Treaty of Chicago in 1833, by which the tribe ceded its lands in Illinois, most of the Potawatomi people were removed to Indian Territory west of the Mississippi River. Many perished en route to new lands in the west on their journey through Iowa, Kansas and Indian Territory (now Oklahoma), following what became known as the "Trail of Death".*
*
https://en.wikipedia.org/wiki/Potawatomi
Kin 81: Red Electric Dragon
I activate in order to nurture
Bonding being
I seal the input of birth
With the electric tone of service
I am guided by the power of life force.
The purpose of Cosmic history is to imprint the galactic frequencies into the noosphere that arouse a positive image or order to reality into the collective mind.*
*
Star Traveler's 13 Moon Almanac of Synchronicity, Galactic Research Institute, Law of Time Press, Ashland, Oregon, 2015-2016.
The Sacred Tzolk'in
Svadhistanha Chakra (Kali Plasma)