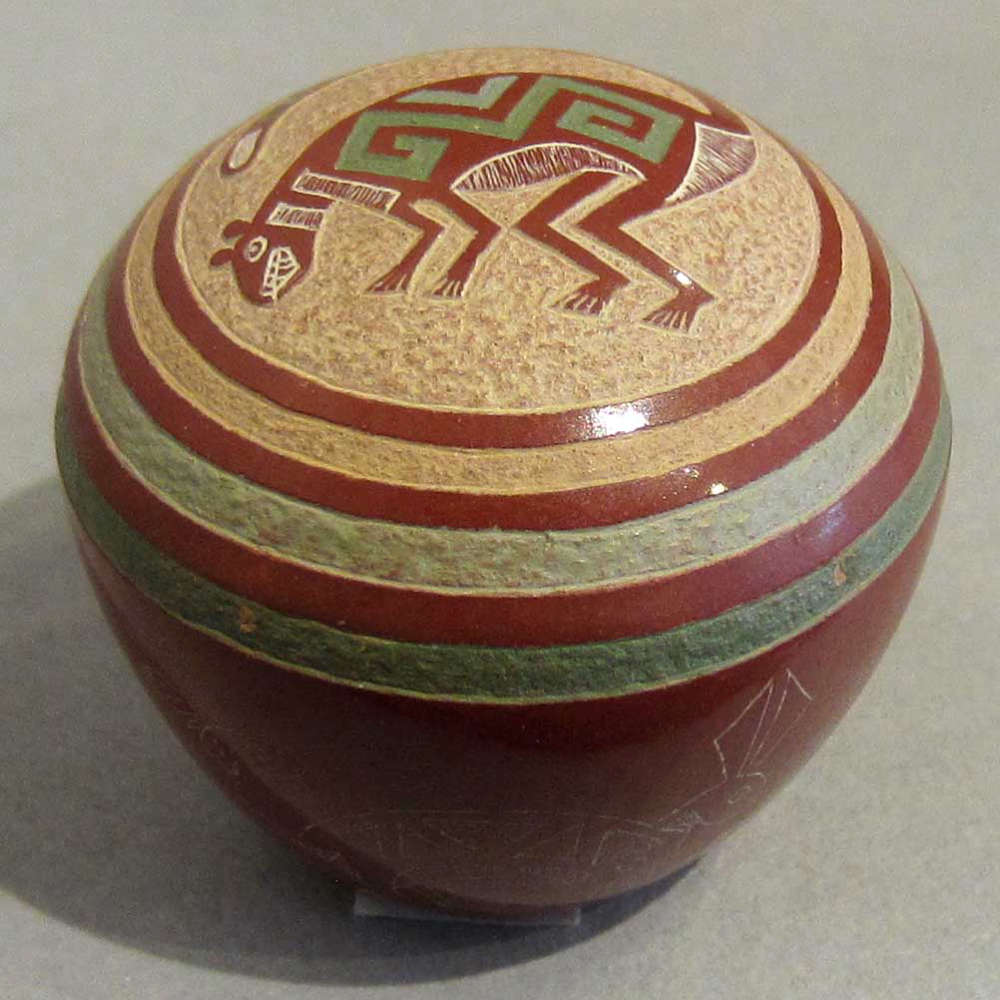 Red Seedpot with sgraffito animals and evolution design, 1986,
Joseph Lonewolf, Santa Clara Pueblo, New Mexico.
Joseph Lonewolf (1932-2014) is a son of noted potters Camilio and Agapita Tafoya, and the brother of Grace Medicine Flower. Beginning in the early 1970's, Joseph Lonewolf revolutionized the world of Santa Clara pottery by incorporating his sgraffito (lightly etching the surface of the clay) and incised (more deeply cut into the clay) designs in his work. He has won numerous awards throughout his career and his work can be found in museums worldwide. He has been featured in numerous books including "The Art of Clay" and has received the prestigious New Mexico Governor's Award for Excellence in the Arts in 2009 and the SWAIA Lifetime Achievement Award.
Well-known for his use of historical methods and his development of sgraffito and bas-relief techniques, Joseph Lonewolf was born at Santa Clara Pueblo is New Mexico. The artist raised the ancient technique of incised pottery to a new art from, creating tiny, delicate pieces often described by critics as "pottery jewels". Hailed as the "master Indian potter of all time" both abroad and throughout the United States, Lonewolf is also credited as the pioneer of two-tone pottery (red and black), which he creates in a single firing.
While essentially a self-taught artist, the potter learned the techniques of clay sculpturing from his father, Camilio "Sunflower" Tafoya, pottery artist and historical reconstructionist. Combining the traditional procedures used by ancestral potters with contemporary methods, Lonewolf has perfected his own style and means of expression. After the laborious, time-consuming process of creating the clay, forming, curing and scraping it, applying the slip and polishing, the artist is ready to exercise his true creative genius, which is the incising of designs. The one-of-a-kind inscriptions include such ancient Mimbres designs as quail, lizards, scorpions, and kachina faces.
Recipient of innumerable awards, the artist has the distinction of being one of the first Native Americans to have a book, entitled The Pottery Jewels of Joseph Lonewolf, written about his work. His creations have been showcased at such cultural meccas as the Heard Museum in Phoenix, the Wheelwright Museum in Santa Fe, and the Eiteljorg Museum in Indianapolis. (All three have purchased his ceramics for their permanent collections.)
www.artfortune.com
www.kinggalleries.com
Kin 155: Blue Crystal Eagle
I dedicate in order to create
I seal the output of vision
With the crystal tone of cooperation
I am guided by the power of accomplishment
I am a galactic activation portal
Enter me.
The Law of Time is an ever-evolving system of symbolic correspondences that, when practiced, telepathically rearrange the mind.*
*
Star Traveler's 13 Moon Almanac of Synchronicity, Galactic Research Institute, Law of Time Press, Ashland, Oregon, 2015-2016.
The Sacred Tzolk'in
Sahasrara Chakra (Dali Plasma)