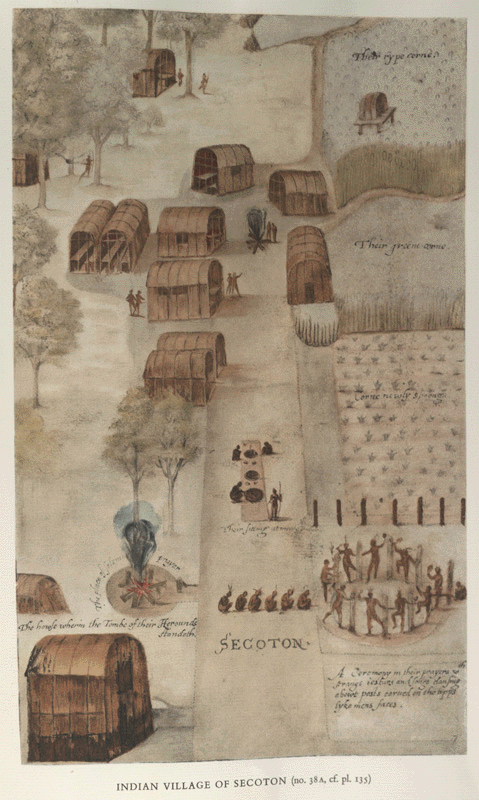 Watercolor drawing "Indian Village of Secoton" by John White (created 1585-1586).
Licensed by the Trustees of the British Museum. ©Copyright the British Museum.
"The People of the Coast" (Hatteras - Roanoke) are a part of a group of Indians known as the Carolina Algonkians, the name "Algonkians" taken from their language group. They were the southern most speakers of the eastern Algonkian language, distributed from the Neuse River in North Carolina to the maritime provinces of Canada . It was Algonkian-speaking people who took the brunt of English exploration and colonization beginning at Roanoke Island in 1584, continuing at Jamestown in 1607, Plymouth in 1620, and all succeeding colonies along the Middle Atlantic and northeastern coast of North America. It is believed that the colonists who settled Roanoke Island had contact with Algonkian Indians known as the Secotan Tribe(s) whose domain extended from the Albemarle Sound to lower Pamlico River and from Roanoke Island westward to present-day Bath , North Carolina.
The Roanoke Indians and the Croatoan Indians (called Hatteras after 1701), were two nations of the Algonkian speaking people of North Carolina . The original home of the Croatoan included what is now Hatteras Island from the current town of Buxton south, and the eastern part of Ocracoke Island . After 1650, and the closing of the Chacandepeco Inlet, they moved onto that part of Hatteras Island from Avon to Rodanthe. The capital of the Croatoan Indians was that of the same name located underneath what is now the Town of Buxton , N.C. The original territory of the Roanoke Indians was Roanoke Island and the Dare County mainland as well as adjacent parts of Bodie Island on the east. The Roanoke Indians called themselves " the northern people " because tradition says they lived at the north end of Roanoke Island. Their capital town was Dasemonquepuc located at modern day Mann's Harbor, North Carolina. The Hatteras Indians called themselves "the people of shallow waters".
The tribes were ruled by a leader called " Manamatowick ". The paramount chief, or Manamatowick, usually controlled between six or eight towns, although some ruled as many as eighteen and could gather seven to eight hundred warriors. At the time of English colonization on Roanoke Island, Wingina, ruled over Dasemonquepuc, Roanoke Island , and possibly the towns of Tramaskecooc, Croatoan, Aquascogoc, Pomeiooc, Cotan, Secotaoc, and Secoton. Each town had its own subchief called "Werowances". *
*http://www.ncalgonquians.com/
Kin 57: Red Overtone Earth
I empower in order to evolve
I seal the matrix of navigation
With the overtone tone of radiance
I am guided by the power of life force.
Through the galactic beam transmission, everyone's thoughts are personally connected to and stored on 'diskettes': these information pools form the foundation of the chromo-cellular archives.*
*
Star Traveler's 13 Moon Almanac of Synchronicity, Galactic Research Institute, Law of Time Press, Ashland, Oregon, 20145-2016.
The Sacred Tzolk'in
Sahasrara Chakra (Dali Plasma)