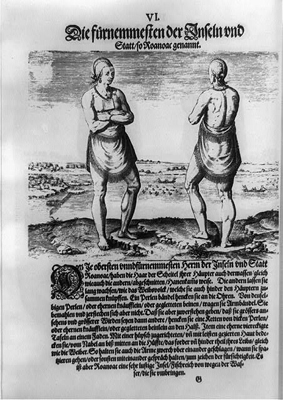 A Chief of Roanoke.
The Sissipahaw or Haw Tribe were most likely a Siouan tribe of North Carolina. They are also variously recorded as Saxahapaw, Sauxpa, Sissipahaus, etc. Their settlements were generally located in the vicinity of modern-day Saxapahaw, North Carolina on the Haw River in Alamance County upstream from Cape Fear. They are first recorded by the Spaniard Vendera in the 16th century as the Sauxpa. Their last mention in history is that the tribe joined the Yamasee against the English colonists in the Yamasee War of 1715.
Very little is known of the Sissipahaw, aside from a few notes in history. Archaeological evidence from Alamance County indicates that the Sissipahaw, much like the Shakori, lived in wigwam-like structures, farmed corn and beans, and hunted the woods for turkey, venison, and bear. Boys and girls also underwent a puberty ritual called husquenawing before entering adulthood where they were given toxic herbs and little food. The tribe was closely connected with the Shakori, of which they may have been a band or closely related and allied tribe. Their animal sign is the mighty bear. Their language, although extinct, is mostly likely Siouan and a sub-dialect of Shakori.*
OC
Kin 70: White Overtone Dog
I empower in order to love
Commanding loyalty
I seal the process of heart
With the overtone tone of radiance
I am guided by the power of endlessness.
True Freedom is knowing your own mind and, therefore, not being subject to automatic or unconscious impulses.*
*
Star Traveler's 13 Moon Almanac of Synchronicity, Galactic Research Institute, Law of Time Press, Ashland, Oregon, 2016-2017.
The Sacred Tzolk'in
Anahata Chakra (Silio Plasma)